Top UK league table school for A Level results, Cardiff Sixth Form College, has just won two major awards from UK Education Advisors – Top Co-Educational Boarding School 2017 and Top Private Sixth Form College 2017.
The College, which educates A Level students from all over the world, has been top of the league tables for the past eight years and has an excellent track record of getting all of its students into top universities.
UK Education Advisors, a specialist private education consultancy which provides advice to parents from around the globe, compiles A Level statistics given to them directly by schools in the UK and accords annual awards to the top institutions based on A*-A percentages. 92% of Cardiff students achieved these top grades in 2017. The company includes all A Level and Pre-U schools but excludes those schools taking the International Baccalaureate which are included in separate tables for IB schools.
The Crystal Awards, as they are known, were presented to Cardiff Sixth Form Principal, Gareth Collier, by Education Advisors Managing Director Les Webb and Education Consultant, Ryan Crittenden.
Said Mr Crittenden: "I believe this our eighth year of presenting the awards to Cardiff Sixth Form College. Our uniquely comprehensive and accurate league tables are compiled from the exam results of students in UK private schools and colleges. We go to great lengths to ensure that we collate results from as many schools as possible and these are carefully checked before publication of our tables. We are therefore delighted to once again present our prestigious crystal awards to Cardiff Sixth Form College. Although exam results aren't everything, they certainly open doors for students and the college alike as they are looked at closely by universities and employers. We believe that League Tables are a very useful indication of a school's academic standing and our relationship with the college has shown us in every respect that Cardiff is an outstanding institution."
Said Cardiff Sixth Form College Principal, Gareth Collier: "I am delighted to receive the Crystal Awards for Top Co-Educational Boarding School 2017 and Top Private Sixth Form College 2017 as these are real accolades for the college. Both our staff and pupils alike are thrilled to have been recognised for all the hard work and commitment they put into their teaching and studies and to be recognised, once again, as the top school in the UK.
"We welcome some of the brightest students from around the world as well as some extremely able students from Wales who have come to us on major scholarships. With top teaching, one-to-one support and an enabling environment coupled with our students passion, hard work and positive attitude we are able to help the young people in our care achieve their dreams and ambitions."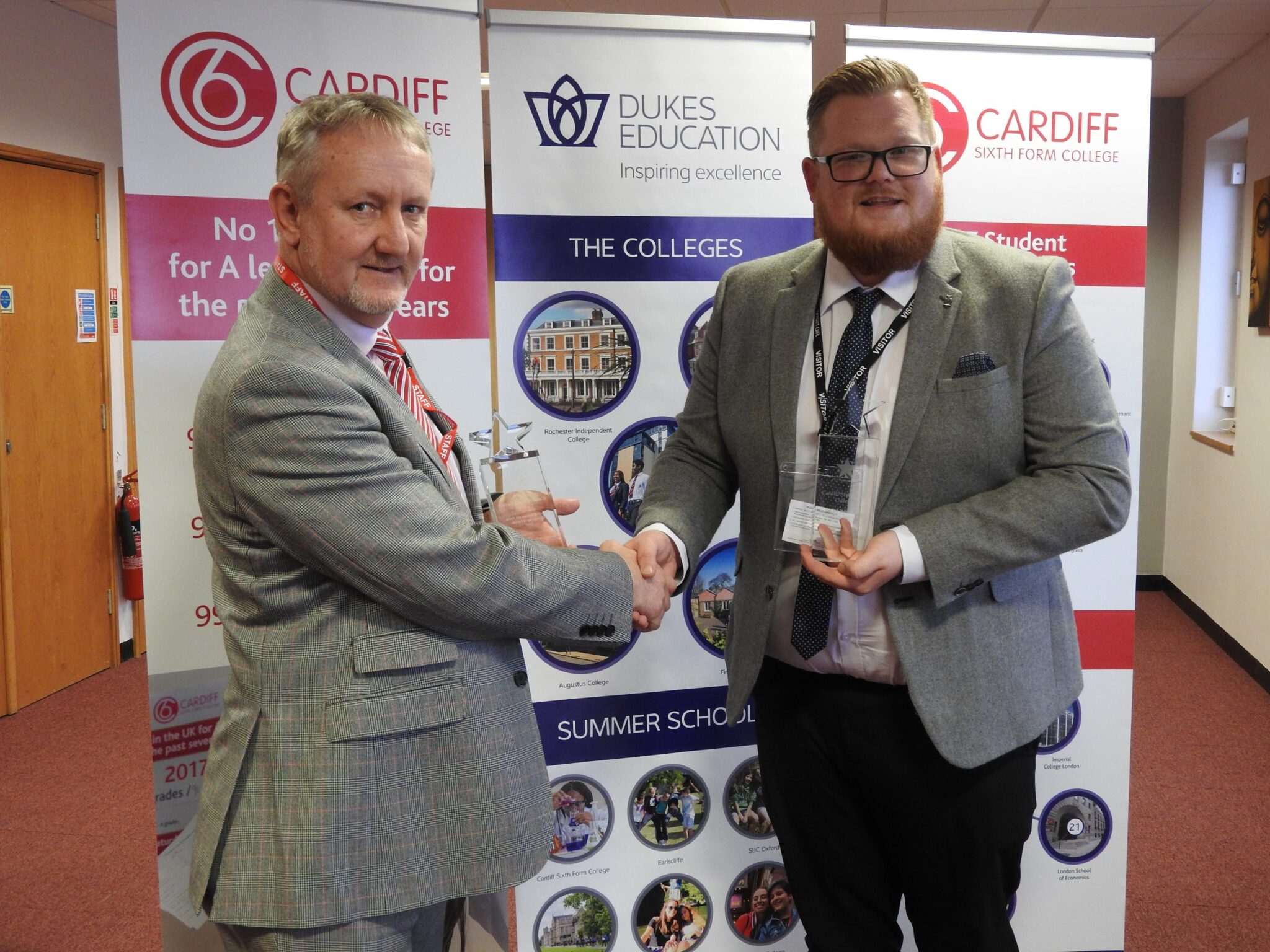 Ryan Crittenden, Education Consultant, presents both awards to Mr Gareth Collier, Principal.
Categories:
News