On Friday 8th April, Cardiff Sixth Form College held its annual Cultural Event at the SSE Swalec Stadium in Sophia Gardens, Cardiff.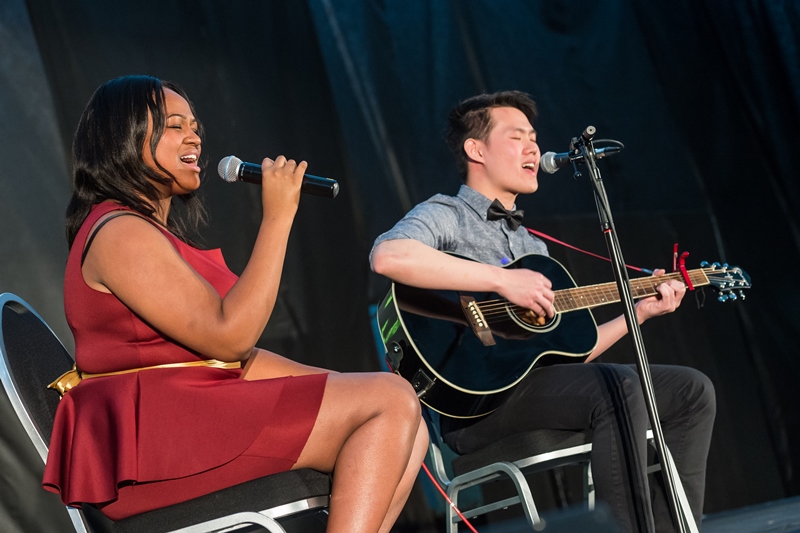 A celebration of the diversity and achievements of our college and its students, the Cultural Event is organised by a committee of AS-Level students who are responsible for planning the entire event including venue hire, catering and entertainment.
Each year, the entertainment programme consists of a range of performances from our students, in addition to a delicious three-course meal and an awards ceremony to celebrate students' achievements.
On the night
Our 2016 Cultural Event began at 6.30pm with an announcement from two student MCs/hosts, followed shortly by a short welcome talk.
The first of the student performances took to the stage at around 6.45pm, with Joe and Loreto delivering an excellent guitar and vocal performance. Throughout the night, the audience enjoyed a number of other performances including dances, songs, musical acts and even a performance from our Maths teachers.
The three-course meal began just after 7pm. A s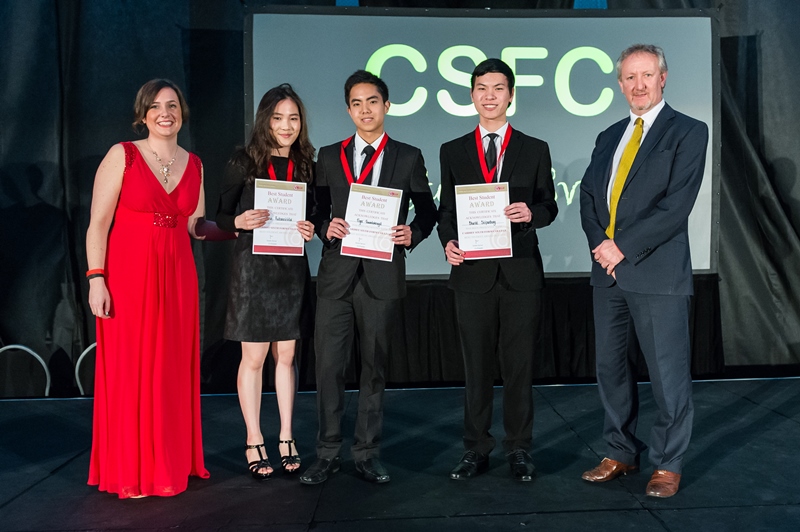 crumptious starter of leek and Gruyere tart with spiced plum and mixed salad was followed by a mouth-watering main course of roast chicken breast served with thyme-roasted potatoes, seasonal vegetables and tarragon-scented gravy. Dessert consisted of a raspberry crème brulee with sugared tuille biscuit.
A total of 56 students were presented with awards to celebrate their achievements throughout the year; a summary of which can be found below.
We also held a raffle featuring a number of great prizes including restaurant vouchers, a free cut-and-blow-dry at a local hair-dressing salon and a family pass to a nearby science discovery centre, Techniquest.
All profits raised on the night will be divided between two charities, as chosen by our students – the Laila Taib Complex in Malaysia, and a local charity that supports young Syrian refugees.
The audience on the night consisted of staff and their families, current and alumni students, parents and guests, all of whom were very impressed by the organisational skills and talents of our students.
Awards list
Special Recommendation Award
Adam Salish
Adrian Lam
Ellie Jones
Slaviana Pavlovich
Best Student Award – based on academic results
Achinthya Kamaraj
Manapat (Rose) Rattanasirivilai
Bhurint Siripanthong
Yotsawat (Tiger) Tawantalerngrit
Honour Award – dedication to career choice
Sakeena Abbas
Andy Lee
Leah Lee
Rory Xiao
Mathematics Subject Award
Olivia Hu
Tiffany Chong
Kevin Loh
Science Subject Award
Bhurint Siripanthong
Angela Rusdiah
Jonathan Yeung
Starburst Award – most improved A-Level students, based on academic results
Dameli Bozzhanova
Nazira Mamytbekova
Stefani Stefanova
Extra-Curricular Award
Danel Medelbekova
Jack Tonge
Haziq Zharfan Hasbollah
Victory Award
Daniya Zhumabayeva
Elinor Roderick
Samuel Cross
Best Goodwill Ambassador Award
Bahrain:
Geoffrey Tang
Malaysia:
Dinkar Sahi
Nikki Soh
Sana Fatma Ahmad
Soul of the College Award
Loreto Peloewetse
Venus Tam
Geoffrey Tang
Samuel Cross
Leadership Award
Amanda Ong
Roman Demidenko
Rory Xiao
Hannah McDonald
Comet Award – best newcomer, based on academic and non-academic performance
Vicky Fatakhora
Isaac Khoo
Liza Chepkasova
Seren Reddy-Jones
English and Humanities Subject Award
Manapat (Rose) Rattanasirivilai
Natasha Bradley
Executive Director Award
Nakulan Nantha Kumar
Yotsawat (Tiger) Tawantalerngrit
Head Boys & Girls Certificates
Rory Xiao
Alisher Dikhanbayev
Dinkar Sahi
Roman Demidenko
Hannah McDonald
Sorfina Ghazali
Kusum Asnani
Sakeena Abbas
Daniya Zhumabayeva
Categories:
News