On Friday 31st March, Cardiff Sixth Form College held its seventh annual Cultural Event at the SSE Swalec Stadium in Sophia Gardens, Cardiff.
A celebration of the diversity and achievements of our college and its students – who, together represent over 32 different nationalities – the annual Cultural Event is organised by a committee of AS-Level students who are responsible for planning the entire event, from venue hire and catering, to entertainment and the charity raffle.
Each year, the programme includes a variety of performances from our students, in addition to a three-course meal and an awards ceremony to celebrate student achievements.
On the night
Our 2017 Cultural Event began at 6.30pm with an announcement from two student MCs/hosts, Matthew Wainwright and Musiab Bhat, pictured below (a role shared with Odunayo Salu and Tabitha Balogun).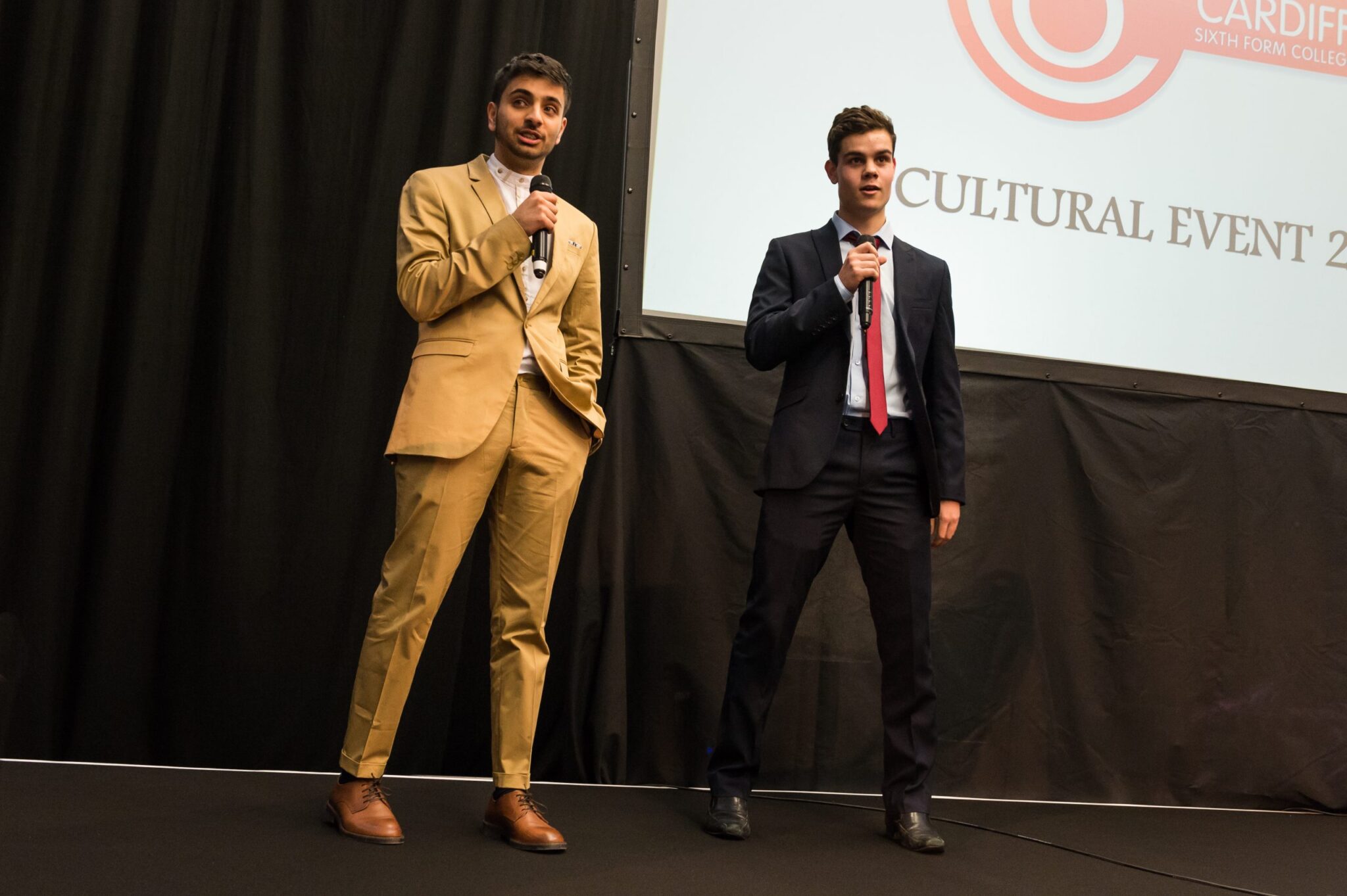 The first student performance began at around 6.45pm, with Quinn Liang delivering an excellent violin performance. Throughout the night, the audience enjoyed a number of other performances including solo songs from Ikenna Ibeanusi, a catchy dance act from Tri Tu Minh, a violin and guitar performance from trio, Imaporshmine, group dance performances and even a group song from our Mathematics department.
The three-course meal began just after 7pm. A superb starter of leek and Gruyere tart was followed by a main course of roast chicken breast served with thyme-roasted potatoes, seasonal vegetables and tarragon-scented gravy. Meanwhile, dessert consisted of a chocolate brownie with vanilla ice cream and warm chocolate sauce.
A total of 25 students were presented with awards to celebrate their achievements throughout the year; a summary of which can be found below.
We also held a raffle for over 20 great prizes including a cricket bat signed by Glamorgan Country Cricket Club, two tickets to Cardiff City vs. Nottingham Forest, high street shopping vouchers, restaurant meals, a family photo shoot and more.
All profits raised on the night will be donated to our students' chosen charity, Doctors Without Borders, which delivers emergency medical aid worldwide to people affected by conflict, epidemics, disasters, or exclusion from health care.
The audience on the night consisted of staff and their families, current and alumni students, students' parents and guests, all of whom were very impressed by the ability of our students to organise such a fantastic event by themselves, in addition to the talents of the students who performed on the night.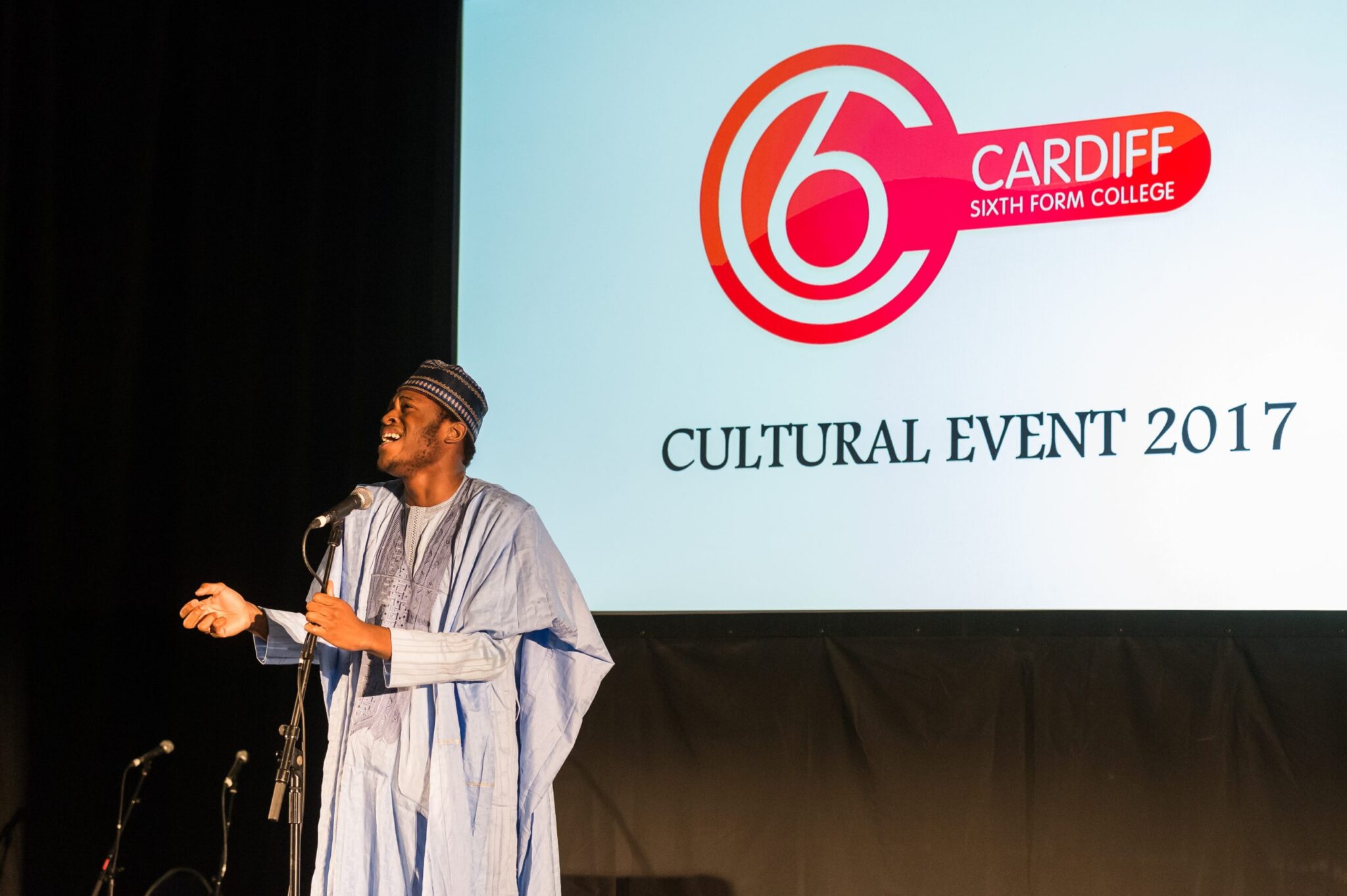 At the end of the evening, Principal Gareth Collier took to the stage to deliver a gripping speech which drew upon the topic of fake news. Quashing rumours that some CSFC staff had left the college over recent months, Mr. Collier invited all staff who intended to remain employed by the college one year from now to join him onstage. Not a single member of staff remained seated – a sign of the unwavering commitment of both our admin and teaching staff to our students, and to the future of CSFC.
Speaking about the Cultural Event, Mr. Collier commented:
"Aristotle famously said, 'Educating the mind without educating the heart is no education at all'. It is my hope that events like this, and the preparation involved, go some way to also educating the hearts of our students."
To view more photos of CSFC's 2017 Cultural Event, please visit our Facebook and Twitter pages. Meanwhile, please click here to watch a video featuring various clips from our 2017 Cultural Event.
Awards list
Principal's Awards
Emma Davies
Austin Tang
Student of the Year Award
Calum Wincott
Liza Chepkasova
Molly Ruengpirairi
Dedication Award
Queena Lee
Isabella Ting
Outstanding Achievement Award
Elliott Macneil
Bahdan Zviazhynski
Mathematics Subject Award
Kai Le Minh
Charlie Lao
Chijing Zeng
Science Subject Award
Karen Soh
Brian Yan
Valentyna Chernova
Best Goodwill Ambassador Award
Tyler Jones
Sai Nadimpalli
Maksim Danilov
Erdem Dorjkhand
Humanities Subject Award
Seren Reddy-Jones
Alina Galimova
Sofya Kukhno
Young Learner of the Year Award
Kristina Abraamyan
Katie Law
Timothy Tempus
Categories:
News